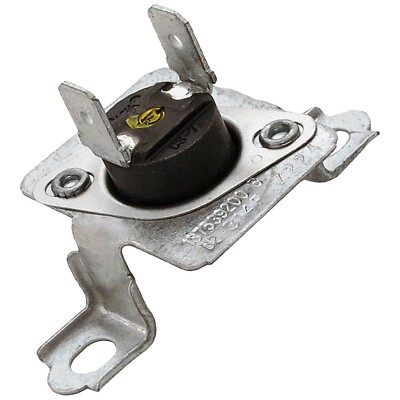 137539200 Thermal Fuse by PartsBroz - Compatible with Kenmore Dryers - Replac...
---
Product Overview
This part is also known as: Limiter. Compatible brands and models include but
are not limited to: Kenmore / Sears: 417,911, 417,91101, 417,91102, 417,9413,
417,94131, 417,94132, 417,911, 417,911, 417,91102, 417,9112231, 417,9112231,
417,9413, 417,94132, 417,98022, 9512. White Westinghouse: SGQ2170KS0. And
other part numbers: EFDG317TIW0, EFMG417SIW0, EFMG517SIW0, EFMG517STT0,
EFMG617SIW0, EFMG617STT0, EIGD55HIW0, EIGD55HIW1, EIGD55HIW2, EIGD55HMB0,
EIGD55HMB2, EIGD55IKG0, EIGD55IKG1, EIGD55IKG2, EIGD55IRR0, EIGD55IRR1,
EIGD55IRR2, EIMGD55IIW2, EIMGD55IIW4, EIMGD55IMB2, EIMGD55IMB4, EIMGD55IRR2,
EIMGD55QT0, EIMGD60JIW0, EIMGD60JIW2, EIMGD60JMB0, EIMGD60JRR0, EIMGD60LSS0,
EIMGD60LSS2, EIMGD60LT0, EIMGD60LT2, EWGD65HIW0, EWGD65HSS0, EWGD65HTS0,
EWMGD65HIW0, EWMGD65HIW1, EWMGD65HIW2, EWMGD65HSS0, EWMGD65HSS1, EWMGD65HSS2,
EWMGD65HTS0, EWMGD65HTS1, EWMGD65HTS2, EWMGD65IMB0, EWMGD65IMB1, EWMGD65IMB2,
EWMGD65IRR0, EWMGD65IRR1, EWMGD65IRR2, EWMGD70JIW0, EWMGD70JIW3, EWMGD70JMB0,
EWMGD70JRR0, EWMGD70JSS0, EWMGD70JSS2, EWMGD70JTS0, SAGQ7070KS0, EFDG317TIW1.
Unsure about compatibility? Reach out to us on the PartsBroz store front or in
the customer questions and answer section.
Features
PART NUMBER 137539200: Its a high-quality exact equivalent for part numbers AP5688405, 134711500, 134711501, 2997750, 7134711500, PS7783961.
COMPATIBLE BRANDS INCLUDE: Crosley, Kenmore, Westinghouse.
FIXES THE FOLLOWING SYMPTOMS: No heat or not enough heat; Will Not Start.
COMPATIBLE WITH PRODUCT TYPE: Dryer.
HIGH-QUALITY PARTS: All the parts meet or exceed all original manufacturer specifications for fit and performance. They offer the durability you need at a fraction of the cost of other alternatives. We provide a lifetime warranty and guarantee 100% money back.
Details
Brand Name: PartsBroz
Item Weight: 0.705 ounces
Package Dimensions: 2 x 1 x 1 inches
Part Number: 137539200
Color: As shown in the picture
Batteries Required?: No