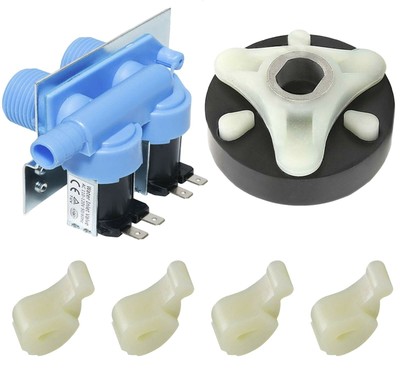 285805 Water Inlet Valve & 285753A Direct Drive Motor Coupling & 80040 (Pack ...
---
Product Overview
Compatible with: Washer, Washer/Dryer Combo. Replacing all three parts can fix
following symptoms: Will not stop filling with water; No hot or cold water;
Leaking; Will not fill with water; Pumps but will not spin; Will not agitate;
Noisy; Spins slowly. Compatible with Crosley: TAWB300RW0. Compatible with
Estate: TAWS800JQ1, TAWX700JQ1, TAWS700EQ2, TAWS750PQ0, TAWS800JQ2,
TAWS800JQ0, TAWS850PQ0, TAWX700JQ2, TAWS700DQ0, TAWS700RQ3, TAWS850PQ1,
TAWS700EQ0, TAWB600JQ0, TAWS700RQ2. Compatible with Kenmore / Sears:
110,238321, 110,2690269, 110,2780269, 110,2781269, 110,2670269, 110,238121,
110,2691269, 110,246423, 110,132022, 110,2888279, 110,2985299, 110,923702,
110,226221, 110,226421, 110,238221, 110,244223. Compatible with Roper:
RAS8445KQ0, RAX4232KQ0, RAS7133PQ0, RAS7133KQ0, RAS7133KQ1, RAX4232PQ0,
RAX7244EQ1, RAS6233KQ0, RAS7233KQ0, RAX7244EW1. Compatible with Whirlpool:
LSQ8243HQ0, LSQ8543JQ0, LSR7233EQ0, LSR8233EQ0, LXR9245EQ1, LSR8233EQ1,
LSR5233AW0, LSQ9544KQ0, LSQ9549LW0, LSR8433KQ0, LXR7144EQ1. Compatible brands
and models are not limited to brands and models listed above.Unsure about
compatibility? Reach out to us on the PartsBroz store front or in the customer
questions and answer section.
Features
PART NUMBER 285805: The water inlet valve is a high-quality exact equivalent for part numbers 285805, AP3094541, 21026, 285805VP, 292197, 3349451, 3354565, 3360387, 3360388, 3360389, 3360391, 3360392, 3429537, 358992, 370067, 388328.
PART NUMBER 285753A: The direct drive motor coupling is a high-quality exact equivalent for part numbers 285753A, AP3963893, 1195967, 21003, 280152, 285140, 285743, 285753, 285753AVP, 3352470, 3363664, 3364002, 3364003, 62672, 62693, 661560.
PART NUMBER 80040: The agitator cogs is a high-quality exact equivalent for part numbers 80040, AP3119063, 285612, 285770, 3109, 3366877, 387091, 80040VP, 99989668, AH388034, EA388034, ER80040, LP338, PS388034, TJ90LP338.
COMPATIBLE BRANDS INCLUDE: Whirlpool, Kenmore, Roper, Estate, Inglis, Crosley, Amana, Admiral, General Electric, Magic Chef.
HIGH-QUALITY PARTS: All three parts meet or exceed all original manufacturer specifications for fit and performance. They offer the durability you need at a fraction of the cost of other alternatives. We provide a lifetime warranty and guarantee 100% money back.
Details
Manufacturer: PartsBroz
Part Number: 285805 & 285753A & 80040
Color: As shown in the picture
Batteries Required?: No