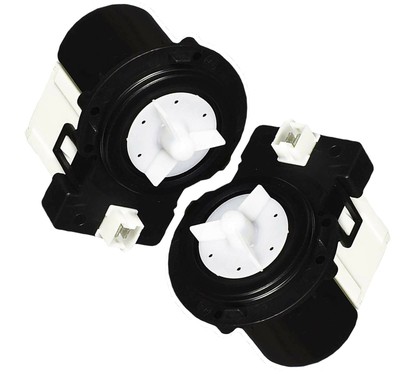 DC31-00054A Drain Pump (2-Pack) by PartsBroz - Compatible with Samsung Washer...
---
Product Overview
This part is also known as: Pump-Drain. Compatible brands and models include
but are not limited to: Kenmore / Sears: , ,
. Samsung: WA476DSHAWR/A1-01, WA484DSHASU/A1-01,
WA484DSHAWR/A1-01, WA5451ANP/XAA-01, WA5451ANW/XAA-01, WA5451ANW/XAA-03,
WA5471ABP/XAA-00, WA5471ABP/XAA-01, WA5471ABP/XAA-02, WA5471ABW/XAA-00,
WA5471ABW/XAA-01, WA5471ABW/XAA-02, WF206BNW/XAA-00, WF210ANW/XAA-01,
WF210ANW/XAA-02, WF210ANW/XAA-03, WF218ANB/XAA-00, WF218ANB/XAA-01,
WF218ANW/XAA-00, WF218ANW/XAA-01, WF219ANB/XAA-00, WF219ANB/XAA-01,
WF219ANW/XAA-00, WF219ANW/XAA-01, WF220ANW/XAA-01, WF220ANW/XAA-02,
WF317AAG/XAA-00, WF317AAS/XAA-00, WF317AAW/XAA-00, WF328AAG/XAA-00,
WF328AAG/XAA-01, WF328AAG/XAA-02, WF328AAR/XAA-00, WF328AAR/XAA-01,
WF328AAR/XAA-02, WF328AAW/XAA-00, WF328AAW/XAA-01, WF328AAW/XAA-02,
WF330ANB/XAA-00, WF330ANB/XAA-01, WF330ANB/XAA-02, WF330ANW/XAA-00,
WF330ANW/XAA-01, WF330ANW/XAA-02, WF331ANR/XAA-04, WF331ANW/XAA-04,
WF337AAG/XAA-00, WF337AAW/XAA-00, WF338AAB/XAA-00, WF338AAB/XAA-01,
WF338AAW/XAA-00, WF338AAW/XAA-01, WF350ANR/XAA-00, WF350ANR/XAA-01,
WF350ANR/XAA-02, WF350ANW/XAA-00, WF350ANW/XAA-01, WF350ANW/XAA-02,
WF419AAU/XAA-00. Unsure about compatibility? Reach out to us on the PartsBroz
store front or in the customer questions and answer section.
Features
PART NUMBER DC31-00054A: It is a high-quality exact equivalent for part numbers DC97-15974C, 1534541, DC31-00016A, PS4204638.
COMPATIBLE BRANDS INCLUDE: Samsung, Kenmore.
FIXES THE FOLLOWING SYMPTOMS: Will not drain.
COMPATIBLE WITH PRODUCT TYPE: Washer.
HIGH-QUALITY PARTS: All the parts meet or exceed all original manufacturer specifications for fit and performance. They offer the durability you need at a fraction of the cost of other alternatives. We provide a lifetime warranty and guarantee 100% money back.
Details
Manufacturer: PartsBroz
Part Number: DC31-00054A
Item Weight: 3.1 pounds
Package Dimensions: 8.35 x 4.84 x 3.46 inches
Color: As shown in the picture
Batteries Required?: No