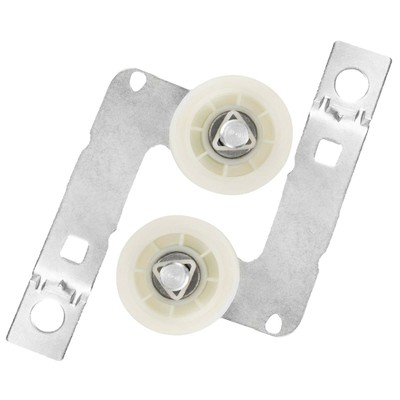 W10837240 Idler Pulley Assembly (2-Pack) by PartsBroz - Compatible with Whirl...
---
Product Overview
This part is also known as: Bracket, Idler Pulley with Bracket. Compatible
brands and models include but are not limited to: Kenmore / Sears:
, , , , ,
, , , , ,
, , , , ,
, , , , ,
. Whirlpool: GEW9200LW1, GEW9250PW0, GEW9250PW1, GGW9200LW0,
GEW9200LL1, GGW9200LW1, GEQ9800LW0, WED8300SW0, WED9200SQ0, GEW9200LQ0,
GGW9250PW0, GEW9868KQ0, GEQ9800LW1, GEW9250PL0, GGW9200LL1, WGD8300SW0,
GEQ9800PW1, GGW9200LQ0, GGW9250PW3, GEW9868KQ1, WED8500SR0, WED8300SW1,
GGW9250PW1, GEW9200LQ1. Unsure about compatibility? Reach out to us on the
PartsBroz store front or in the customer questions and answer section.
Features
PART NUMBER W10837240: It is a high-quality exact equivalent for part numbers W10547287, W10547290, 3387372, 3388674, PS11726337, W10118754, W10118756, W10837240VP.
COMPATIBLE BRANDS INCLUDE: Whirlpool, Kenmore, Amana, Inglis, Crosley, Admiral.
FIXES THE FOLLOWING SYMPTOMS: Noisy; Will not tumble; Will Not Start.
COMPATIBLE WITH PRODUCT TYPE: Dryer, Washer Dryer Combo.
HIGH-QUALITY PARTS: All the parts meet or exceed all original manufacturer specifications for fit and performance. They offer the durability you need at a fraction of the cost of other alternatives. We provide a lifetime warranty and guarantee 100% money back.
Details
Manufacturer: PartsBroz
Part Number: W10837240
Item Weight: 10.6 ounces
Package Dimensions: 6 x 3.5 x 1 inches
Color: As shown in the picture
Batteries Required?: No