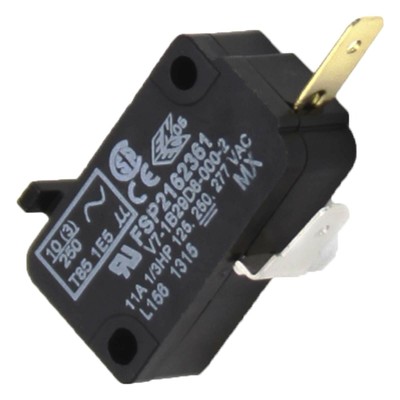 WP2162361 Microswitch by PartsBroz - Compatible with Whirlpool Refrigerators ...
---
Product Overview
This part is also known as: Refrigerator Dispenser Switch. Compatible brands
and models include but are not limited to: Estate: TS25AFXKQ03, TS22AFXKQ05,
TS25AFXKQ04, TS25AEXHW01, TS22AFXKQ00, TS25AFXHW00, TS22AFXKT05, TS25AFXKQ02.
Kenmore / Sears: , , . Kitchen Aid:
KSCS25FKSS02, KSCS25FKSS01, KSRB25FHSS02, KBUDT4270A02, KSRS25IKSS01,
KSRG25FKSS16, KSRA25FKSS00, KSCS25FKSS00, KSRG25FKSS04, KSRS25QGWH01,
KSRA25ILSS03, KSRS25FGWH02, KSSS42QDX05, KSRS25QAWH10, KSRG25FKSS05,
KSRG25FKSS15, KSSS48QDX05, KSCS25FJSS01, KSSS48QDW00, KSRS27IKSS01,
KSRS25IHWH02. Roper: RS25AGXNQ02, RS25AEXLQ00, RS25AGXNQ01, RS22AQXKQ00,
RS22AQXMQ01, RS22CFXTQ00, RS25AFXMQ00, RS22AQXKQ04. Whirlpool: GS6SHAXKS01,
ED25DQXBW00, ED5VHGXMQ10, ED5VHGXMB10, GD5RHAXNB00, ED5VHGXML10, GD5PHAXMS10,
ED5LHEXTD00, ED25PQXFW01, ED5RHEXNL00, ED5FHGXKQ02, GD5SHAXKQ00, ED25TQXGW00,
ED22TQXFW00, ED5PHEXNL00, ED25QFXHW00, ED25TEXHW00, GD5SHAXKT00, ED22TEXHW00,
ED5FHEXNS00, ED5GTGXNQ00, ED5JHEXTS00, GS6SHAXKQ01. Unsure about
compatibility? Reach out to us on the PartsBroz store front or in the customer
questions and answer section.
Features
PART NUMBER WP2162361: It is a high-quality exact equivalent for part numbers 2162361, 1119206, PS11738948.
COMPATIBLE BRANDS INCLUDE: Whirlpool, Kenmore, Kitchen Aid, Roper, Estate, Crosley, Amana, Inglis, Dacor, Thermador.
FIXES THE FOLLOWING SYMPTOMS: Not dispensing water; Ice maker wont dispense ice; Leaking.
COMPATIBLE WITH PRODUCT TYPE: Refrigerator.
HIGH-QUALITY PARTS: All the parts meet or exceed all original manufacturer specifications for fit and performance. They offer the durability you need at a fraction of the cost of other alternatives. We provide a lifetime warranty and guarantee 100% money back.
Details
Brand Name: PartsBroz
Item Weight: 0.32 ounces
Package Dimensions: 6 x 6 x 0.4 inches
Part Number: WP2162361
Color: As shown in the picture
Batteries Included?: No
Batteries Required?: No